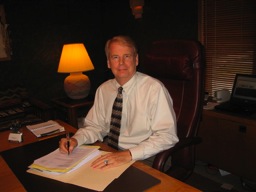 Richard Harpman, is the third generation at
Harpman & Harpman
continuing a tradition begun by his grandfather Charles A. Harpman, in 1913 as Youngstown's first Patent Attorney. Richard's father Webster B. Harpman joined with his farther in 1935 to establish Harpman & Harpman Patent Attorneys.


Rich carries on the family tradition, joining the firm in 1977, being registered to practice before the United States Patent Office in 1980 Reg# 29,802. With a strong background in both Mechanical Engineering, and Business attending the University of Tampa and graduating from Youngstown State University in 1974 Richard brings a practical business oriented perspective to the Law.

With over 30 years of experience in preparing .filing and successfully prosecuting hundreds of Patent Applications and thousands of Patent searches, assures that each client will receive the highest quality of professional service possible.